Summary:
What is a COIN Pickaxe?
COIN Pickaxes introduce a new layer of gamification allows users to find, mint, and equip custom pickaxes of different levels to enjoy enhancements to Geomining-related benefits.
There are over 10 million pickaxes with 5 levels of scarcity. Each pickaxe gives 7 different Geomining-related benefits to varying degrees once minted and equipped. These benefits cannot be stacked. Pickaxes have Geomine Charges which require a recharge once they run out to continue getting these benefits.
Once you find a pickaxe, you have 30 days to mint it before it goes back into the pool of available pickaxes. When minting these custom pickaxes, make sure to have a valid NFT Wallet address that you own the private keys for.
The price of minting depends on the scarcity of the pickaxe found (Common, Uncommon, Rare, Epic, Legendary). Each level of scarcity also comes with a higher level of Geomining-related benefits.
Once minted, each custom pickaxe has a Geomine Charge (100k for Common, 250k for Uncommon, 500k for Rare, 750k for Epic, and 1MM for Legendary). Once that charge runs out you can recharge it with an in-app purchase (which also varies based on scarcity).
Note: Pickaxe bonuses don't work on Remines (and they don't decrement their Geomine Charge)
What are the benefits?
Team Lift (1-10% increase on your Team Lift bonus)
Big Geomines (1-10% higher chance of finding Big Geomines)
Tile Clearing (1-10% less tile-clearing minigames)
Geomining Rewards (1-10% more rewards on each Geomine)
Home Base (1-10% increase on your Home Base bonus)
Witness Rewards (1-10% increase on your Big Geomine Witness rewards)
Speed Boost (1-10% faster Geomining speed and recharge)
What are the Tiers?
Common

(over 10 million available which provide above benefits in the 1-

3% range)

Uncommon

(over 100 thousand available which provide above benefits in

the 3-5% range)

Rare

(only 12,150 available which provide above benefits in the 5-7%

range)

Epic

(only 1,536 available which provide above benefits in the 7-9% range)

Legendary

(only 144 available which provide above benefits in the 9-10%

range)
Where are the Pickaxes in the app?
You can access your minted and unminted pickaxes from the Items section of your account screen. Once a pickaxe is minted and equipped, you can see additional info about it, which is accessible from the Geomining Enhancements screen.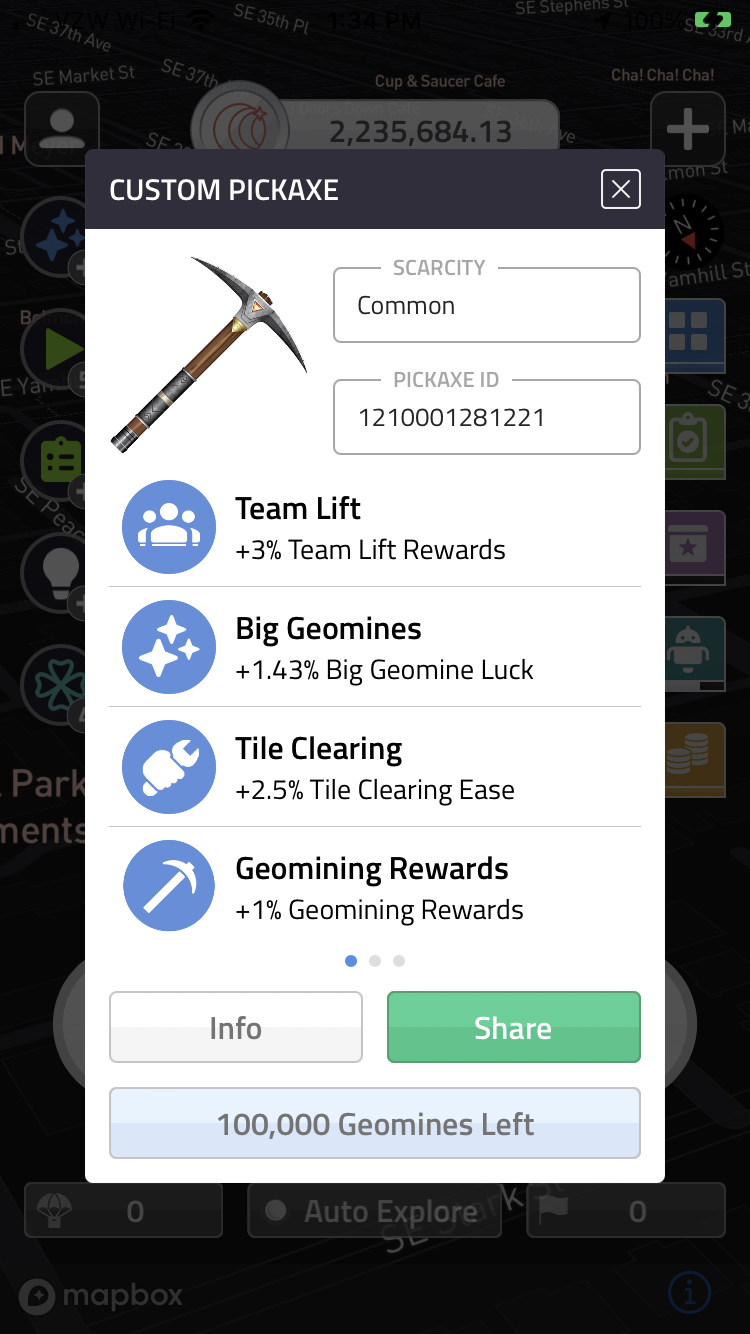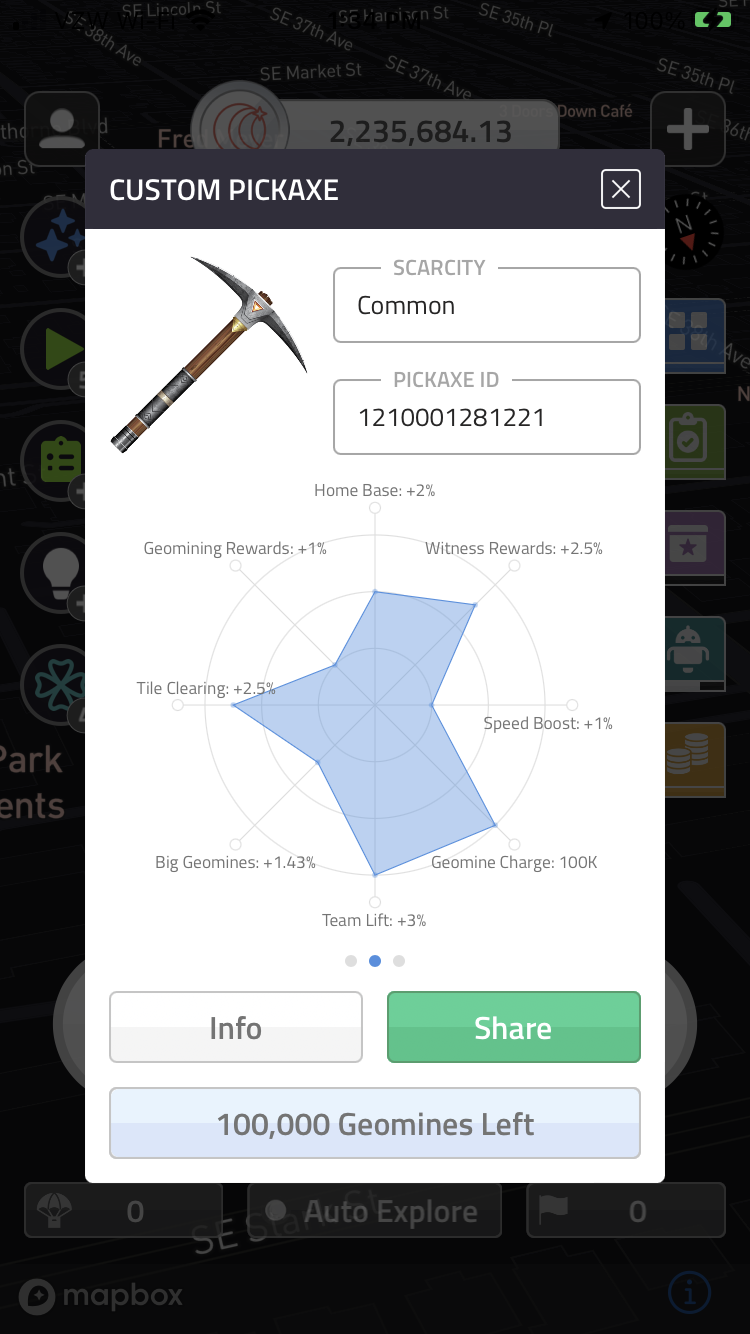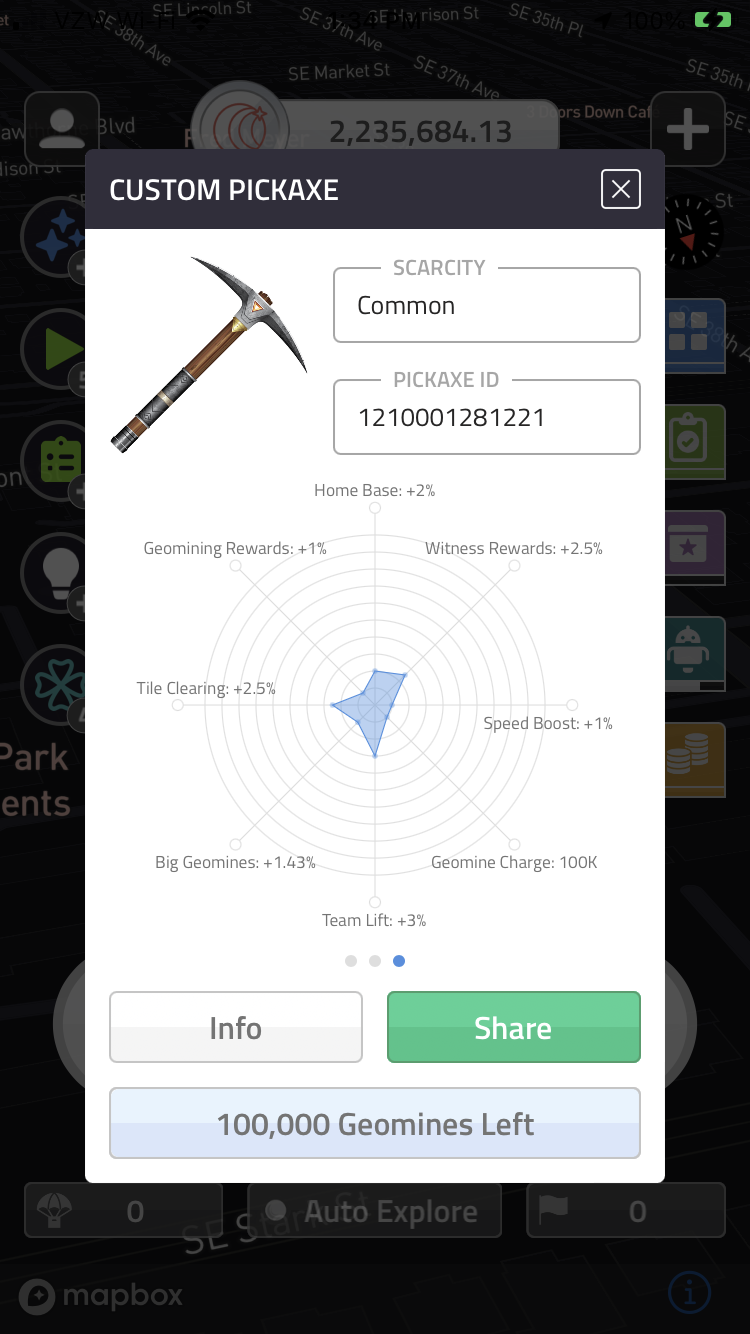 Note: The first chart shows the pickaxes benefits in relation to others of the same scarcity, whereas the second chart shows the benefits in relation to all pickaxes (Common provides 1-3% benefits, Uncommon 3-5%, Rare 5-7%, Epic 7-9%, and Legendary 9-10%).
Can you find and mint multiple pickaxes? Yes, you can! And there is a good reason to. Each pickaxe provides different benefits so you may want to switch from one to another depending on how you are using the app. In the app you can see how your other minted pickaxes compare with regards to each benefit to your equipped one. For example, if you are going to Geomine at home for a while you may want to select your pickaxe with the highest Home Base bonus.
Mint Pricing
Common $9.99 USD
Uncommon $19.99 USD
Rare $39.99 USD
Epic $79.99 USD
Legendary $159.99 USD
Recharge Pricing
Common $6.99 USD
Uncommon $14.99 USD
Rare $29.99 USD
Epic $59.99 USD
Legendary $119.99 USD
You can see all the pickaxes that have been minted so far here: https://opensea.io/collection/coin-pickaxes
Opensea allows users to view pickaxes but has just limited buying and selling for the time being. In the meantime, users can buy and sell on rarible.com if desired.
Transferring Pickaxes
If you buy a pickaxe on opensea.io or rarible.com someone transfers one to your wallet address, you can get it to be associated with your account so that you can equip it.
First off you will need to verify ownership of the wallet address through https://my.coinapp.co/verify while logged into the account that you want to own it. How to verify a wallet in COIN
Once users verify their address they can sync their pickaxes through my.coinapp.co/pickaxes
Pickaxe Merging
You can merge 3 minted Common Pickaxes to forge an Uncommon, Rare, Epic, or Legendary Pickaxe. Simply select the Pickaxes you want to merge by tapping the checkbox on the top left corner and once you have 3 selected, you'll see a merge button to complete the operation. Once this action is done, you will no longer have access to the Pickaxes in app nor will you be able to equip them. You'll forge an Uncommon+ Pickaxe and have the opportunity to mint that so you can equip it and get its benefits. This feature is currently only live on iOS but coming to Android soon.
You can merge Common or Uncommon Pickaxes. When you merge Commons, you will forge an Uncommon-Legendary Pickaxe. When you merge Uncommon, you will forge a Rare-Legendary Pickaxe.
FAQ
Does a COIN Subscription improve the chances of finding scarce Pickaxe?
Premium Users (Plus/Pro/Master) get the Pickaxe Boost, which increases your chances of finding more scarce pickaxes by 10x.
Enjoy!