Listen up, this is a seriously COIN earning opportunity!
Check out this video to get started or continue reading below
COIN is now helping keep POI (Point of Interest) data accurate! We are testing out this new feature in two lucky zip codes in the US: 92122 (La Jolla, CA) and 10011 (Manhattan, NY).
How to Participate
When this feature is available, you will see an indicator on the left side of the main screen. You can also access it by tapping Extra Activities on the More Opportunities screen (tap the top right + button on the main screen). Remember it is currently limited availability, but we are hoping to roll it out as many places as we can soon!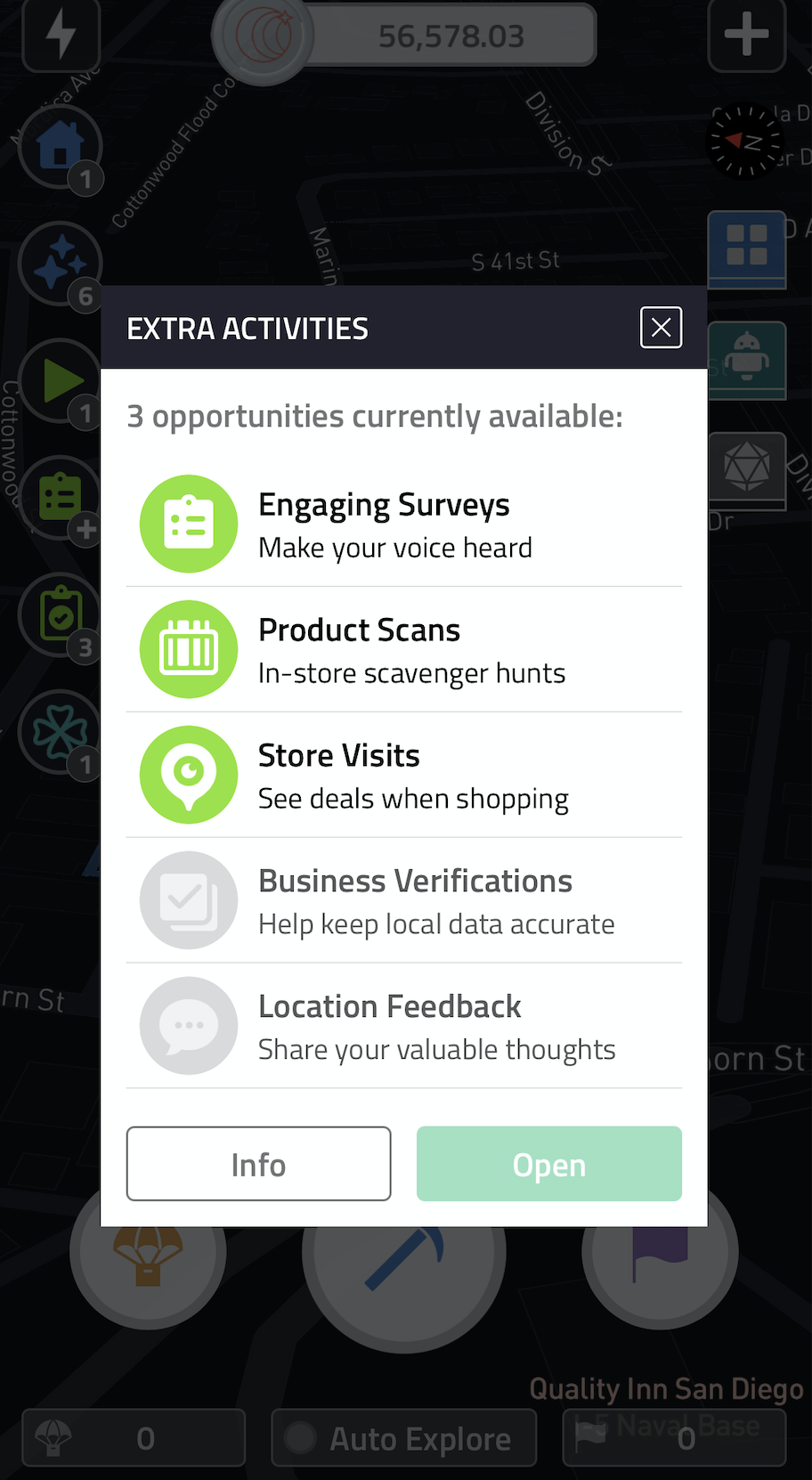 Verifying POI data is easy. Once you are within a reasonable distance from an available business, it will show up on the list. When it does, you can select it then tap Navigate to get directions. Once there, you can then tap Verify and confirm the details and update them as needed. Be sure to make sure your entries are correct to ensure a COIN reward. Be sure to make sure your entries are correct to ensure a COIN reward. If any items are incorrect, simply tap the pencil icon and edit them.
Once done with the basic info, you will need to take a landscape picture of the business and can optionally fill out the Website and Phone Number for some extra rewards.
Once you have finished verifying a business, rewards are delivered to you in a pending form and not immediately added to your COIN total. This is done since the data needs to be processed to ensure validity against the other entries. Each valid verification is currently worth 500 COIN! If you also provide a valid Website and Phone Number, you can boost that to 550 COIN.
Closed or Inaccessible Businesses
With this feature, you can also report businesses as closed down, inaccessible, missing, moved, or residential. Simply select the business you want to report then tap the "Closed Down or Another Problem?" button at the bottom of the screen. Next, select the option that best fits the current state of the business you are reporting.
Closed down: If the business appears to be temporarily or permanently closed down
Inaccessible: If you can't get to a business for any reason, for example, it is in a private building
Missing: The business is not where it is supposed to be
Moved: The business appears to have moved to a different location
Residential: The business is in a residential neighborhood and isn't a public storefront
You will currently get 250 COIN added to your pending rewards for each business you report as closed, inaccessible, missing, moved, or residential, and once they are validated those rewards will be sent to you in a Geodrop.
New Businesses
Adding new businesses is also an option with Business Verifications. We are only interested in getting submissions for businesses that are openly consumer-facing (customers are able to walk in and out freely without an appointment). The rewards for this option work in the same way as reporting a business as closed down, but they are currently worth 750 COIN for the first valid entry of a new business.

All rewards will be delivered at the end of the verification campaign through Geodrops once the data is processed and determined valid. The campaign length is dynamic and completes once a certain percentage of data is verified. This is expected to be no more than two weeks but could be longer.

Hope you all enjoy the new feature. Feel free to drop feedback on it and remember it is new and we're going to be continually improving it.