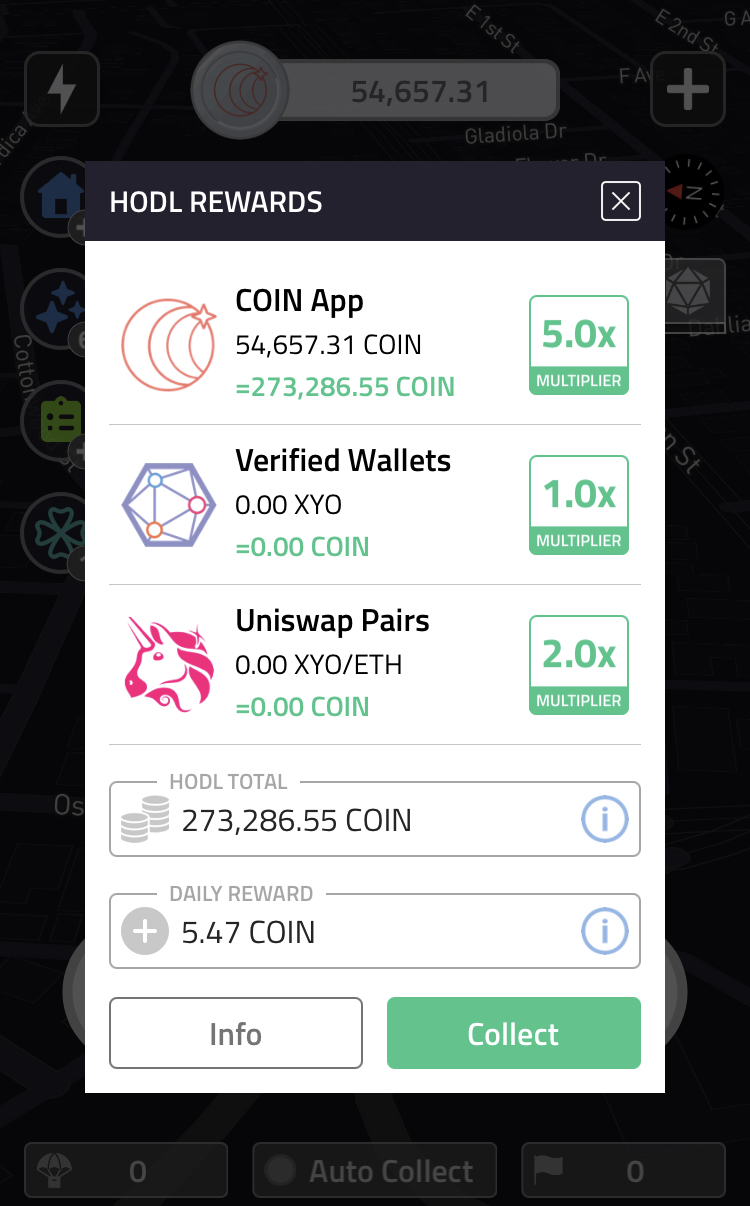 Sources:
COIN App - your current COIN balance in the COIN App displayed in black
Verified Wallets - Your current holdings of XYO tokens in a verified private cryptocurrency wallet. If you have successfully verified a wallet and hold XYO in it, your balance of XYO would be displayed in black.
Uniswap Pairs - Your current holdings of XYO/ETH paired tokens found in your verified private cryptocurrency wallet. Your paired token balance appears in black.
Please note - Uniswap is not recommended to those that are unfamiliar with the Uniswap platform. COIN/XYO cannot provide any financial advice for attaining Uniswapped pairs of XYO/ETH.
- To learn more about Uniswap, please see:
Multipliers:
The current multiplier for holdings from each source. Each source's total amount is converted to its value in COIN, then multiplied by the corresponding multiplier amount to get the totals displayed in green. Amounts in green contribute to your HODL Total.
HODL Total:
The total amounts in green (which are the values normalized in COIN with the respective multiplier applied) from each source. Your Daily Reward is based on this number.

Daily Reward:
This is the COIN reward you can collect daily. It can be collected once per day (24 hours, refreshes at midnight UTC). This amount is based on the HODL Total above, and is the daily benefit of connecting your wallet for HODL Rewards!