Table of Contents:
What is HODL?
It was originally a typo that caught on as the new saying for holding crypto (it has come to stand for "Hold On for your Dear Life")
What are HODL Rewards in COIN?
HODL Rewards are COIN rewards that you can collect once per day through the COIN app. It is based on the amount of COIN you have in the app, the amount of XYO you are holding in a verified wallet address, and the amount of liquidity you have provided to the XYO/ETH Uniswap pair (The COIN rewards are doubled if any of your verified addresses are FHR wallet addresses).
Important note: COIN HODL reward base percentages and the source Annual Yield for each source are subject to change without notice.
If you do not have any XYO in your private wallet, please see How to buy XYO. Be sure to send it to a compatible private wallet for this feature to work. Compatible wallet types offered below!
To see your current wallets added for HODL rewards, visit https://my.coinapp.co/verify
How do I Verify my Wallet Address?
In order to activate your HODL perks with COIN, you will need to use Metamask as a chrome extension, or most any private wallet with an in-app URL browser. Wallets used on exchanges may not work for this feature.
You can go to https://my.coinapp.co/verify to verify your wallet address that either holds XYO or the LP (Liquidity Provider) tokens you receive for providing liquidity to our supported Uniswap Pairs. Please see special instructions offered for Metamask and Trust wallet examples below.
Metamask (laptop/desktop only)
This process will only work on a desktop or laptop, this will not work on mobile.
Metamask is a private wallet designed to work with a browser and allows you to connect blockchain and the internet. If using Metamask, this process must be done on a laptop/desktop computer with Metamask installed as a Chrome extension.
To get your own Metamask wallet on your desktop or laptop computer, visit:
For detailed instructions, you can click Here!
When you are ready, visit this page: https://my.coinapp.co/verify
1. Click Sign.
2. Your Metamask wallet will pull up, click Sign.
Trust Wallet (Android only)
As of July 2020, iOS users do not have the ability to use the Browser in Trust. iOS users will have to use Metamask on a desktop or an alternate wallet that has an in-app Browser feature.
Android Trust users can use the DApp browser and search the page: https://my.coinapp.co/verify
Click Sign and follow prompts.
Other wallets
If your wallet offers an in-app web browser, you will need to search "my.coinapp.co/verify" to connect it to the COIN App. Click Sign and follow prompts.
How to collect your HODL rewards
Please note: You can only collect HODL rewards for a verified address with a single COIN account.
1. Tap the top-right ✚ icon in the COIN app
2. Tap HODL Rewards, then tap Collect.
Alternatively, you can tap the HODL rewards icon pinned to the right side of the screen, which shows when rewards are ready to collect with a full progress bar.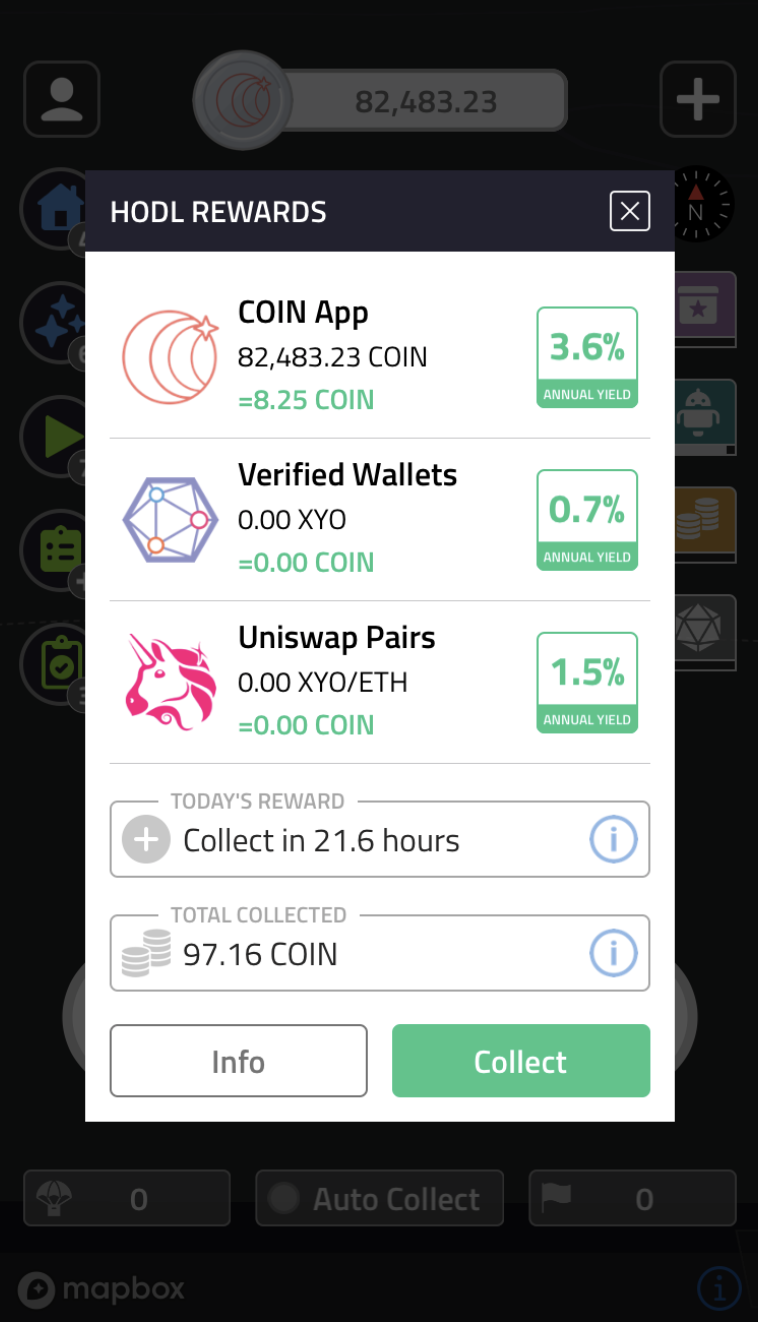 You can earn COIN rewards simply for having COIN in the COIN App, XYO in a verified address, as well as in Uniswap pairs. Currently, the only pairs supported are V2 and V3 XYO/ETH.
Why can't I collect my HODL Rewards/When am I eligible to collect my HODL Rewards?
You can only collect HODL Rewards once per UTC day and the amount of those rewards is based on your in-app COIN and total XYO across all of your verified wallet addresses. If that balance is too low, no rewards will be available.
Remember to collect your rewards daily! They will not accumulate if you miss a day.
Note: only one account may use the balance of a verified address for HODL rewards. Rewards collected by any additional accounts using the same verified address are subject to forfeiture.
Most private cryptocurrency wallets will offer a private key. Keep this in a safe place and do not send your private key to another individual, as your private key is the password to your wallet. If you change phones or need to log in to your wallet, they will require you to enter your private key. Keep it on paper in a safe place!
XYO/COIN will never ask you for your private key, and importing a wallet into Metamask does not mean XYO/COIN will see or be able to access your private key. The HODL Rewards feature simply allows a compatible wallet to display its balance of XYO in the COIN App.
Happy HODLing!