You can earn COIN even while you're not using the app!

We have been continuously testing the best way to integrate this feature.

Your COIN collecting will continue when you have to take a call, check social media, or even lock your device.
Background Rewards are variable, and these rewards are not worth as much as Geomining in the foreground.
To earn the most out of Background Rewards, be sure to allow Background location permissions on your phone to Always On to earn 10x of the base amount!

The Background Rewards feature automatically kicks in anytime you leave the COIN app and will collect for 3-9 hours after leaving.
Background Rewards aren't delivered until you have been away for at least 5 minutes.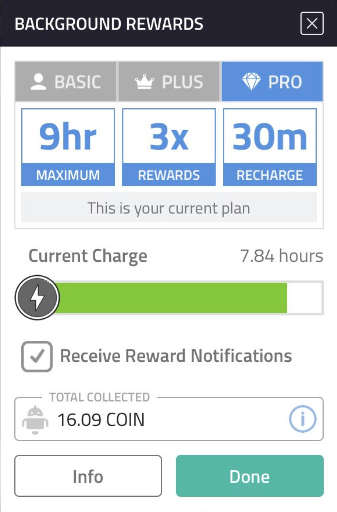 A breakdown of terms:
Maximum: This is how many hours you can earn rewards in the background with a full charge. If you allow notifications, we can let you know when this limit is reached so you can collect the rewards and use the app to recharge.
Rewards: This is the multiple you will receive on the variable amount of background rewards you earn.
Recharge: This is how many minutes it takes with the app in the foreground to fully recharge the capability to earn rewards in the background.
Rates:

Basic: 3-hour maximum, 1x reward multiple, 90-minute recharge
Plus: 6-hour maximum, 2x reward multiple, 45-minute recharge
Pro: 9-hour maximum, 3x reward multiple, 30-minute recharge
Master: 18-hour maximum, 6x reward multiple, 15-minute recharge
We hope you enjoy this feature! Please let us know if you have any questions by emailing us here