NOTE: Apple does not sponsor COIN's promotional sweepstakes.
COIN may offer Promotional Sweepstakes occasionally for awesome prizes, such as XYO Tokens and plenty of other fun options in the future! Note: This is currently only available for users in the United States with US Citizenship.
No purchase is necessary to enter or win these Sweepstakes. However, you can use your COIN to get entries (non-refundable).
FAQ:
Where to Enter the Sweepstakes
How to Enter for Free (requires postcard)
How will I be notified if I win?
Where to Enter the Sweepstakes
To participate, head on over to https://my.coinapp.co/redeem
On the "1MM XYO Sweepstakes" redeem option, click the green "Enter" button.

After clicking "Enter" you'll be presented with information about the selected Sweepstakes. You need to agree to the Terms and Conditions before proceeding.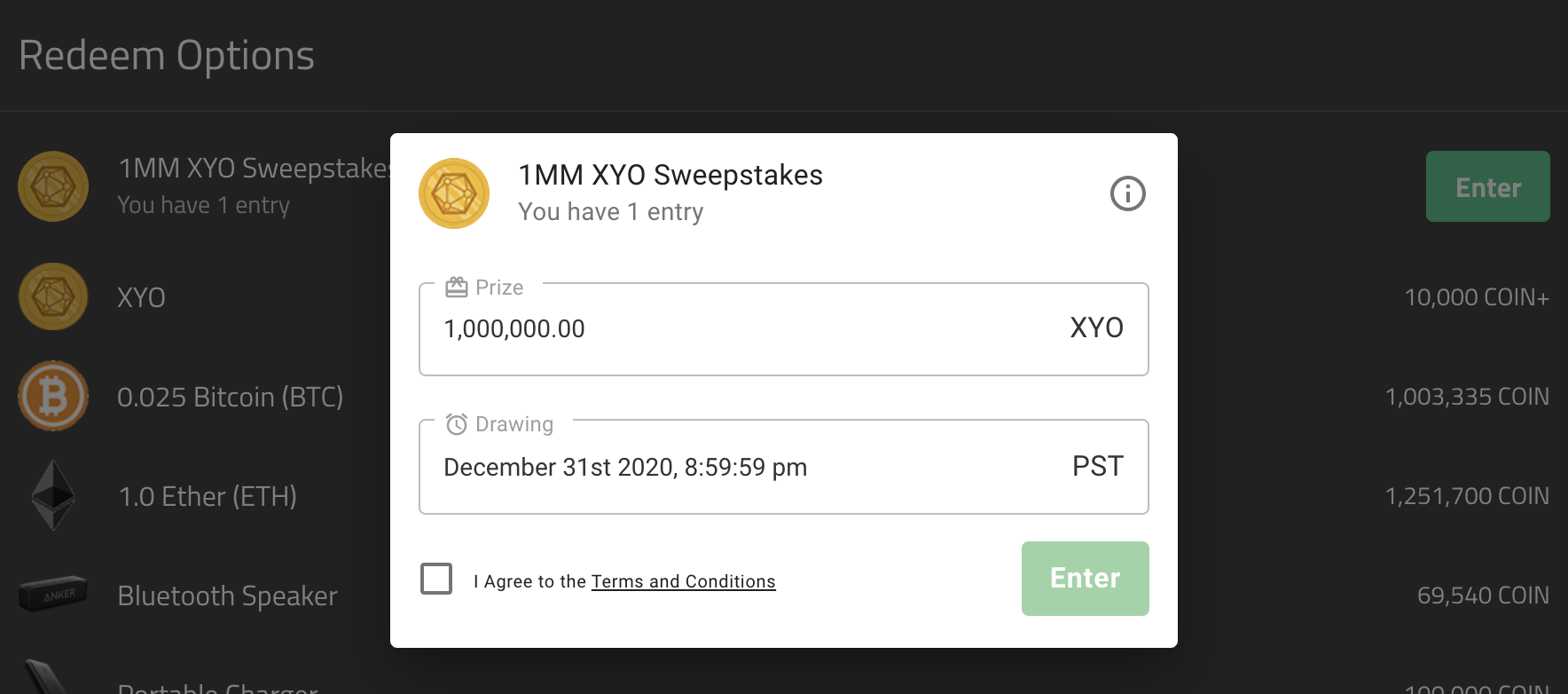 On the next page, you will be able to select how you would like to enter. There are two ways to enter a Sweepstakes: by mailing a postcard, or by redeeming COIN. No Purchase is Necessary to enter or win.
If you use COIN, you will receive entries automatically. If you enter for free with a postcard, please note that entry receipt is dependent on a timely receipt of your postcard, too! You can see additional details below.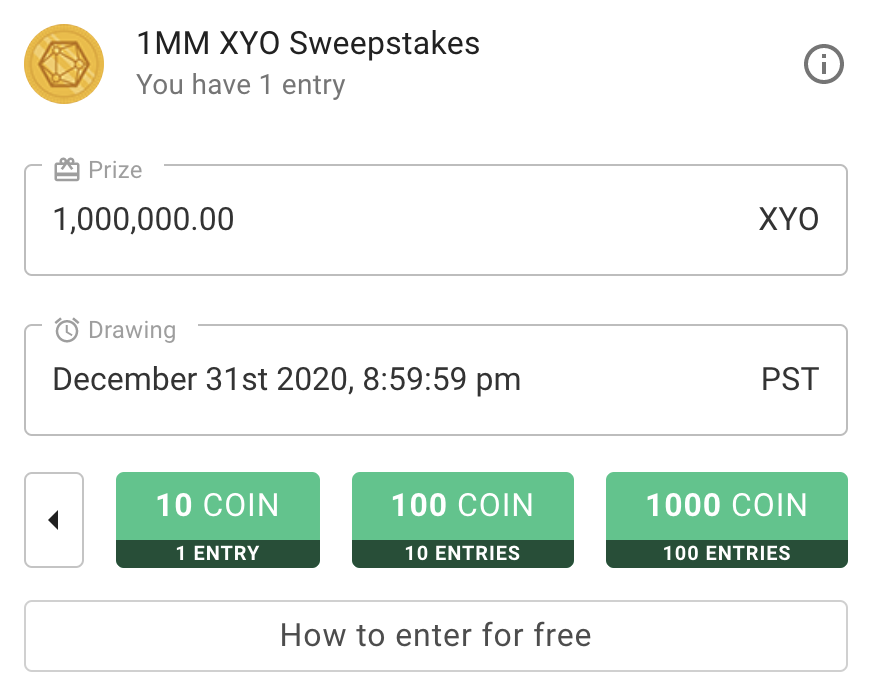 How to Enter for Free (requires postcard)
To enter the Sweepstakes for free, click "How to enter for free" on the entry selection page shown above. You'll be presented with instructions on how to enter the Sweepstakes via postcard.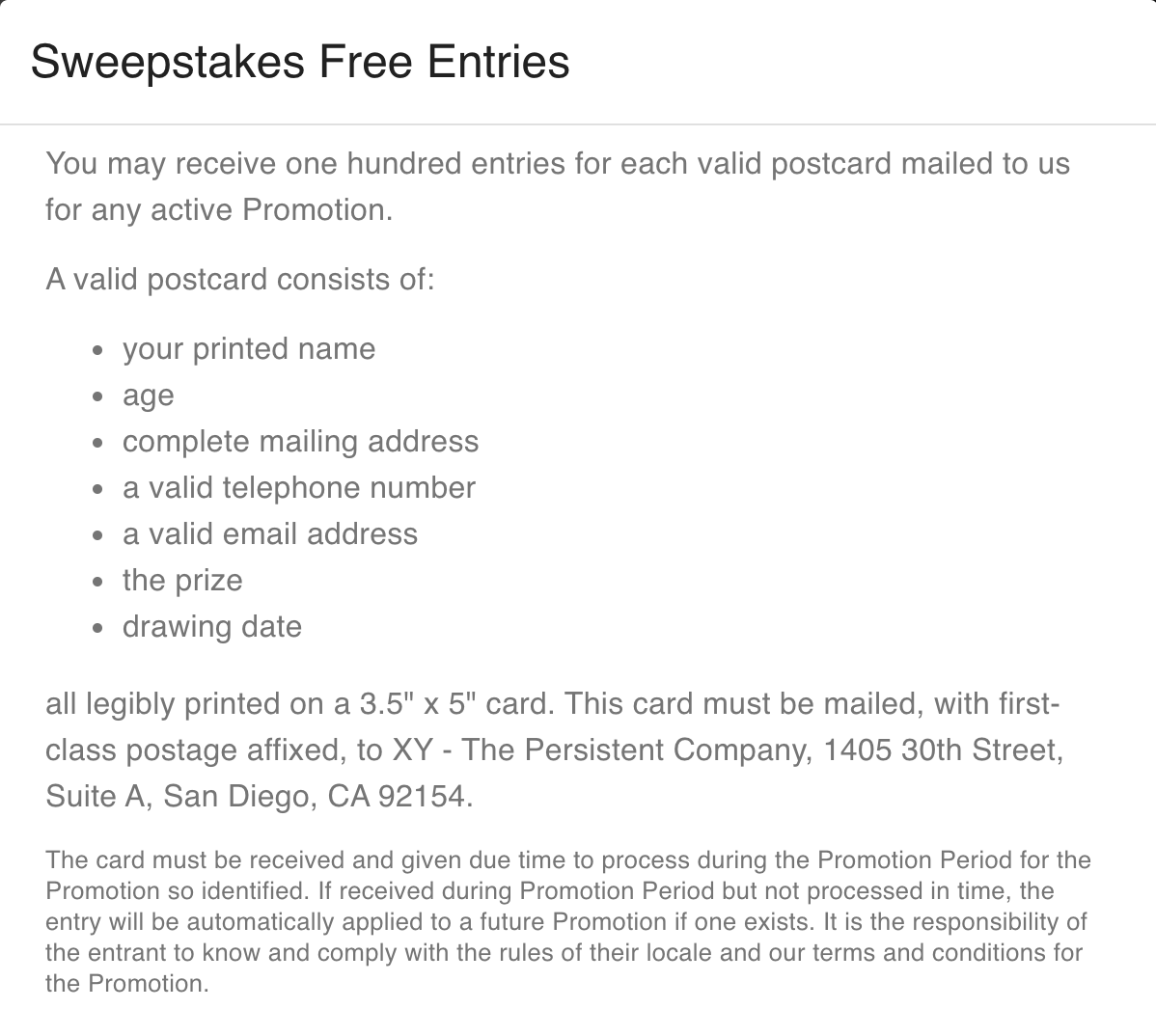 Please note that shipping fees and postage are the responsibility of the entrant.
If we did not get your postcard entry before the end of the current Promotion Period, you will automatically be entered for the next one.
How to Enter by Spending COIN
Another way you can enter the Sweepstakes is by redeeming earned COIN. (Note: Gifted COIN (e.g. COIN received for signing up, bonus drops, etc) may not be used for Sweepstakes entries.)
To enter the Sweepstakes by redeeming COIN, click your desired amount of entries on the entry selection page shown above. 10 COIN must be redeemed for every 1 entry when entering in this way.
Options offered:
10 COIN for 1 Entry
100 COIN for 10 Entries
1000 COIN for 100 Entries
Keep in mind the COIN you spend is non-refundable!
Follow the prompts until you have successfully paid your desired amount of COIN. In the image below, 10 COIN was redeemed for 1 Entry. Once you have completed a redemption for an entry, you'll see your total number of entries on the Redeem Options page in https://my.coinapp.co/redeem

How will I be notified if I win?
The winner will be contacted directly soon after the end of a COIN Sweepstakes. A winner will be required to provide the necessary information to claim a prize (such as shipping address or ERC-20 address). You can learn more about winner selection and process here: https://my.coinapp.co/sweepstakes-terms
Winners will be announced on social media, be sure to follow @COINwithus to be kept in the loop!